SUSPENDED ANIMATION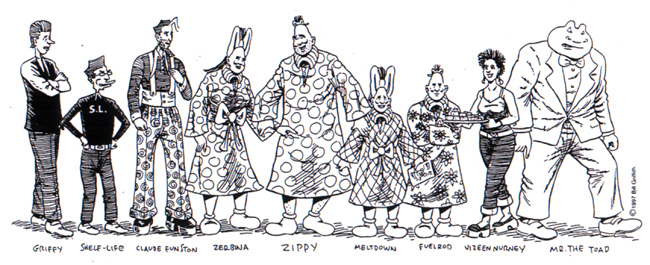 You've heard about it and read about it for years---now, see it at last!! (well, the rough materials, at least).
The Zippy animated TV series project began in 1995 when Sunbow Entertainment ("The Tick", "G.I. Joe", "My Little Pony", etc.) approached Bill Griffith and offered him a "development deal". A Zippy "Bible" (descriptions of all the major characters, locales, character relationships, drawings, sample scripts, etc.) was created. Griffith and writing partner Diane Noomin then accompanied the Sunbow execs (including Sunbow's prime mover Nina Hahn) on a series of pitches to different TV networks in New York and Los Angeles.This collaboration eventually led to a "pick-up" by the Showtime cable network in 1998.
Originally, the show was to be animated by the Sunbow studio, but when finances couldn't be agreed on between Sunbow and Showtime, the show was brought to Film Roman ("The Simpsons", "King Of The Hill", etc.) which agreed to produce the show with Showtime as broadcaster.
Then, in 2001 the sad story began to unfold--It became clear Film Roman was unable to come up with their part of the financing (unknown to Griffith and Showtime, Film Roman needed a financial partner to proceed.)
Even though the production of the show had been announced in the Hollywood Reporter by the Film Roman execs (from New Delhi, India, of all places, where they'd been negotiating with a software company interested in investing in their projects), things started to unravel.
When Showtime sensed that Film Roman was unable to uphold their end of the deal (a contract between all the major parties had been signed and was ready to implement--Griffith and Noomin were getting ready to relocate temporarily to L.A. to work on production) , Showtime called Griffith to say they were dropping the project.
That's the tale of woe in a nutshell---and here's what's left after all the years of work---souvenirs of the Zippy show that never was.
••••••••••••••••••••••••••••••••••••••••••••••••••••••••••••••••••••••••••••••••••••••••••••••••••••••••••••••••••••••••••••••••••••••••••••••••••••
Before animation can begin, animators first need create "turn-arounds"--head and full figure drawings showing each character from various points of view.
Below are full figure portraits and turn-arounds for the major characters in the Zippy cast, all drawn by Bill Griffith, with input from Film Roman . Most of these drawings were done in May of 2000.
CLAUDE FUNSTON FULL FIGURE COLOR
Major "sets" (called lay-outs) must also be created. Below are the original "master drawings" of 4 locations as described in the first few unproduced scripts. Three scripts were written, collaborative efforts of Bill Griffith, Diane Noomin, Bruce Kirschbaum, Charlie Rubin and Etan Cohen. The scripts were originally commissioned by Sunbow Entertainment . They were then rewritten and "green-lighted" by Showtime , which had agreed to co-produce and broadcast the three episodes. Ah, the good old days.
EXTERIOR 1: ZIPPY and GRIFFY on Hollywood Blvd. (Page 1, "She Fell For a Pinhead" episode)
EXTERIOR 2: Vacant lot, "Doggie" in background, Griffy opening shelter door (Page 27, "She Fell For a Pinhead" episode)
INTERIOR 1: ZIPPY's Fur-Lined Fallout Shelter (Page 2, "Sign From Above" ["Pilot"] episode)
INTERIOR 2: ZIPPY's Fur-Lined Fallout Shelter/"BombKat" altar (Page 4, "Sign From Above" episode)
For purposes of "grounding" the show for animation, Zippy and the rest of the cast live in a seedy Hollywood neighborhood, not far from the (real but relocated) "Griffith Observatory". Zippy (with Zerbina and the kids, Fuelrod & Meltdown)), Griffy, Shelf-Life, Mr. Toad and Vizeen live in the fictional "Shangri-La Garden Court Apartments". Zippy also has a "home away from home", in a fur-lined fallout shelter nearby. Claude Funston lives in an R.V. park ("Freeway Vista Villa") a few blocks away. It's a Zippified Hollywood, real yet unreal, complete with a bowling ball factory, "Nosh 'n' Wash" laundromat and "Lucky Strike Lounge", where Vizeen does her "Greatest Commercial Jingles" act, amid the clatter of strikes and spares.
••••••••••••••••••••••••••••••••••••••••••••••••••••••••••••••••••••••••••••••••••••••••••••••••••••••••••••••••••••••••••••••••••••••••••••••••••
Animators and writers on a show also need to keep in mind the essential relationships between the major characters-- the way they normally see and react to each other.
RELATIONSHIPS BETWEEN THE MAJOR CHARACTERS
•••••••••••••••••••••••••••••••••••••••••••••••••••••••••••••••••••••••••••••••••••••••••••••••••••••••••••••••••••••••••••••••••••••••••••••••••••
In Zippy's case, it was important that his "elliptical" way of speaking be understood by the writers, so the Bible contained a page describing (maybe over-describing) Zippy's musical approach to speech.
••••••••••••••••••••••••••••••••••••••••••••••••••••••••••••••••••••••••••••••••••••••••••••••••••••••••••••••••••••••••••••••••••••••••••••••••••
Three complete (half-hour) scripts were written for the proposed series. Here's the PILOT EPISODE.
Illustration of "BombKat" (featured in the pilot script) below:

••••••••••••••••••••••••••••••••••••••••••••••••••••••••••••••••••••••••••••••••••••••••••••••••••••••••••••••••••••••••••••••••••••••••••••••••••••
ZIPPYVISION - The Movie
Before the ill-fated TV series, there was the "Zippy Movie".
From 1984 to 1995, numerous options were signed, many Hollywood meetings were taken, scripts were written, casting was discussed, actors were "committed", even a budget was drafted. But, like the TV show, it was not meant to be.
A semi-fictionalized telling of the epic tale is recounted by Griffith in Zippy Quarterly #5.
At one bizarre twist in the road (3/27/90), a front page ad was taken out in Variety (by the Aspen Film Society), along with a full 2-page color spread inside, in hopes of attracting a studio/distributor. Click the logo below to see the front page ad.

A DETAIL OF THE 2-PAGE SPREAD IN VARIETY (art not done by Bill Griffith)
Home | Storefront | Today's Strip | This Just In | Newsroom | Understanding | Roadside | Help
Contents copyright © 2002-2003 Bill Griffith
Webmestre Hélène Bardinet