NEW - Bill Griffith's graphic biography of Ernie Bushmiller, the true story of the Man Who Created NANCY!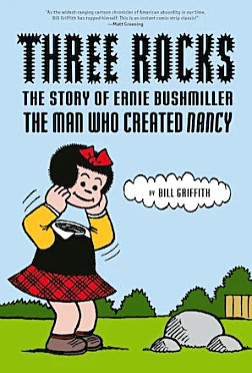 Read The New Yorker's extensive piece on "Three Rocks", BG's new graphic bio of "Nancy" cartoonist Ernie Bushmiller.
The 2024 ZIPPY CALENDAR now available!

Bill Griffith went home with the trifecta of comic awards this year: The Eisner Hall of Fame Award, The Reuben Award from the National Cartoonists Society and the Harvey Hall of Fame Award.
Is he an institution yet?
My story about losing Diane, published by Fantagraphics Books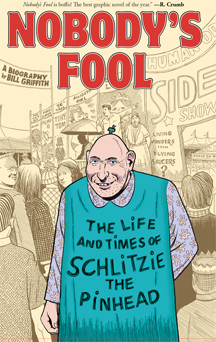 SEE the "Nobody's Fool" product page for more info!
To order one autographed copy of "Nobody's Fool" ($24.99) via Paypal:
EUROPEAN ORDERS ONLY: TO ORDER one autographed copy of "Nobody's Fool" use Paypal link below (Total: $61.50 with shipping--sorry, no other option).
TO ORDER "Invisible Ink" ($29.99) via Paypal, use the link below:
2016 EISNER AWARD-WINNER!! "Invisible Ink: My Mother's Secret Love Affair With a Famous Cartoonist", a new graphic memoir by Bill Griffith (inscribed & autographed)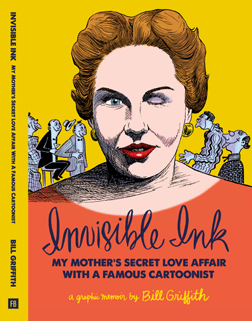 NOTICE: For now, the Zippy site is using PAYPAL (or checks) for ALL purchases. If you wish to buy a Zippy book, sketch, Signed Print or Original Art, please request a Paypal purchase link by contacting us at griffy@zippythepinhead.com
---OR choose "Pay by check" by using the "non-Paypal" link you see on some pages of the site.
TO PURCHASE ANY ZIPPY BOOK, please use the SECURE PAYPAL BUTTONS BELOW. DO NOT go to the "Zippy Books or Annuals" pages on this site to order--only to look at the books.
NOTE: If you are outside the U.S., please do NOT use the links below (shipping needs adjusting). Just contact us and tell us what you'd like & we'll send a custom Paypal link.
To order "Welcome to Dingburg" ($14.21), use the Paypal link below:
To order "Zippy Annual 2001" and "Welcome to Dingburg" together ($24.00), use the Paypal link below:
To order "The Dingburg Diaries" ($19.99), use the Paypal link below:
To order "Glitz-2-Go" by Diane Noomin ($19.99), use the Paypal link below:
To order "Are We Having Fun Yet?" (Zippy graphic novel! / $9.71), use the Paypal link below:
To order "Get Me a Table Without Flies" (Travel sketches by Bill Griffith, $5.95), use the Paypal link below:
NEW: "PICTURES WITHIN PICTURES" in-depth podcast review of "Invisible Ink". Worth a listen.
CANADIAN CUSTOMERS: International shipping rates have gone through the roof lately. IF YOU WANT TO BUY JUST ONE BOOK, email PINHEAD PRODUCTIONS and we'll send you a (cheaper) custom purchase link.
Obama-Lama-Ding Dong Signed Print Move over George, it's Donald's turn!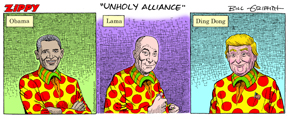 BACK BY POPULAR DEMAND !
Get a FREE DRAWING by Bill Griffith in your book. Your choice of DRAWING A or DRAWING B, below. To ORDER, click on cover above and follow instructions on how to specify the drawing you want.
Click on drawings below to ENLARGE.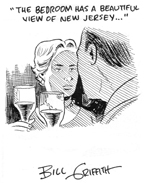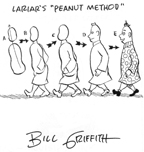 NEW!! Mr. The Toad Sketch Original Art by Bill Griffith. Signed, only $25.00. "Don't Goad The Toad!!"
ORIGINAL ZIPPY DRAWING--only $25.00-- Sketch is 4" by 6" and drawn to order by Bill Griffith!
"Current.org" magazine piece on NPR's decision to stop mentioning some of the mellifluous names of its staff on air---Zippy is bereft!
Want a FREE 44 page CATALOG of Bill Griffith Original Art, Signed Prints & more? CLICK HERE and type "FREE Catalog" in Subject line and message area. Free Catalog will be sent as PDF to your email.
Video: Bill Griffith in conversation with writer Paul Di Filippo at MoCCA-Fest, April 2013.
Check out this new interview with B.G. on the origins of his creative inspiration in Andrew Beckerman's excellent "Wrestling Team" podcast.
"Bill Griffith LOST and FOUND: Comics 1969-2003". BIG! 392 pages. Inscribed & Autographed!
Collects hundreds of Griffith's early underground comics, most of them long out of print and unavailable. Includes Griffith's "mini-memoir" looking back on over 40 years of cartooning. (SEE ABOVE for huge SALE).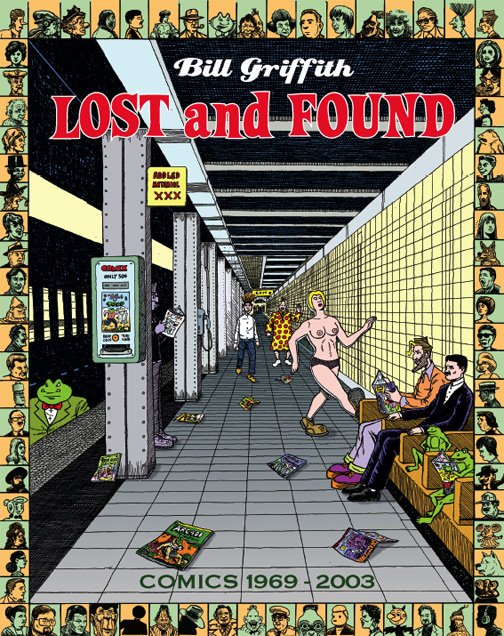 REVIEW of "Lost & Found" from ATLANTIC Magazine by Steven Heller (with slide show).
The ALFRED JARRY bio, "The Man With the Axe" by Nigey Lennon and profusely illustrated by Bill Griffith is now an e-book!
Unearthed at last! ALL 9 "Videowest" Zippy episodes broadcast on San Francisco's KQED TV in 1980. That's Jim Turner (Of "Duck's Breath Mystery Theatre". etc.) as Zippy and Diane Noomin as DiDi Glitz. Low budget fun!
Review of "Lost & Found" in the COMICS JOURNAL by Matthew Thurber & Rebecca Bird
Hour-long RADIO INTERVIEW with B.G. by Robin McConnell of "Inkstuds"
Gary Panter interviews Bill Griffith for The Comics Journal.
"Zippy the Pinhead: The Musical"
NOW AVAILABLE ON iTunes. 19 songs, from the Overture to "Don't Goad the Toad" to "Pinhead Love". All songs by Lorraine Whittlesey. YOW!!
READ an appreciation of "The Family Circus" cartoonist Bil Keane (1922-2011) by B.G. in the Comics Journal.
HEAR an entertaining interview with B.G. by Richard Roth - all about Griffy's career in comics - on NPR.
Cartoonist PROfiles piece by R.C. Harvey on B.G. and Zippy's 25th anniversary in daily syndication, with lots of graphics at the end.
See the Bill Griffith cover for jazzman Ken Peplowski's latest CD.
Article in the Boston Globe by Jane Roy Brown on Zippy's forays into the diners & other mysteries of Massachusetts!
Highly recommended: Master Cartoonist Justin Green's blog---check back often!
HEAR a 12/20/10 NPR interview with Bill Griffith. (click "Listen" below photo of B.G. on new page)
"The Condiments Song" from "Zippy the Pinhead: The Musical" (Private Sector/Baltimore, Nov. 2010).
SEE Roadside Tipster Mike Dickau's photos (and the Zippy strips they inspired).
READ a B.G. interview with the Greek comics site "Comicdom" (scroll down for English)
Want to see photos of the "Real World" locations Zippy visits?
READ "Griffy's Top 40: On Comics and their creation".
Zippy fan page on Twitter
(a quote a day)
Updated info in the Zippy Newsroom
READ a transcript (with many illos) of a talk by B.G. on the history of Underground Comics.
HEAR a conversation between Bill Griffith & Colin McEnroe from 11/20/07.
SEE a 1980 video of Zippy and Bill Griffith in the flesh.
READ a 12/8/09 interview with Griffy (find out what pen point he uses!) on David Paccia's blog
(Type in "Bill Griffith" in "Search This Blog" on new page. It's #14).
ZIPPY BOOK "WELCOME TO DINGBURG", with fold-out "main street" cover and aerial map of the "City inhabited entirely by Pinheads".
READ an INTERVIEW with Zippy's creator on the Comic Book Resources website.
"Obama-Lama-Ding-Dong" T-shirt!
"Barack to the Future". (original style still available)
OBAMA-LAMA-DING DONG image above also available as a Giclee Signed Print! 11" by 17" heavy paper, archival inks, signed by Bill Griffith.
HEAR the in-studio BBC interview with Bill Griffith (& Garry Trudeau).
Full Color Giclee Signed Prints of ZIPPY SUNDAY STRIPS!
Now only $65.00.
AVAILABLE FOR ALL ZIPPY SUNDAY STRIPS FROM 1999 TO CURRENT DATE:
Large size, Ultrachrome Prints on 140 lb. acid-free Fabriano paper, using archival, lightfast inks.
Go to any Sunday strip by date or contact us with a description of the strip
ZIPPY SIGNED PRINT:
"Zippy's Comic Book Collection"
30 little covers, one BIG Giclee print.
This is a Limited Edition.
Large Giclee Signed Print: "Zerbina Resplendent". Limited Edition.
CONTACT US here with any questions or comments.
EXTENDED SALE! ALMOST ALL ZIPPY BOOKS 25% OFF!!
More sale books under "Zippy Annuals", including latest Zippy book!
PROMO for Zippy book: WELCOME TO DINGBURG.
Zippy videos on YouTube:
Bill Griffith interviewed in his studio on YouTube.
NEW: Zippy for President Signed Print. Full color, Heavy stock.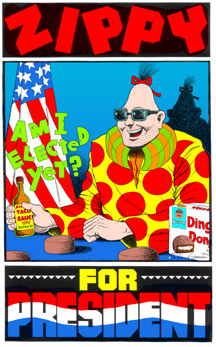 NOTE: The image of "Today's Strip" (click DONUT above) is now BIGGER and IN COLOR! (Click the "Zoom" icon on new page for BIG size)
"WELCOME TO DINGBURG" T-shirts! Also: Zippy Valentine's Day Cards, Birthday cards & NEW Mrs. Gowanus, Doggie, "Little Zippy" T-shirts, mugs & more.
NEW ZIPPY T-shirts! PLUS--LOTS of BRAND NEW Zippy swag available at zazzle.com! New Zippy tote bags, magnets, ties, bumper stickers, postcards, real U.S. Postage & more (click animated link at right!).
---
ARCADE #5 (Jay Lynch cover). Mint condition. $25.00
---
The Lost Tunes:
2 New Zippy Songs, ready to download!!
---
---
Did you know Bill Griffith co-created "Wacky Packages" in the 1970s?
(And he worked on the current "Wacky Packages Old School" sketch cards series 2 & 3--check them out on ebay.)
---
LOTS OF NEW ART in both Zippy Original Art Galleries-- now available!